I was all set to write about something else today, but then I saw
this article
in my daily Shelf Awareness email. I will cross post it at the bottom of this post, but the gist is that Nancy Pearl, America's most famous librarian and champion of local book stores is going to begin publishing books with Amazon exclusively. She will be donating the money to her scholarship fund, but still. Her other argument is that she is championing the
backlist
, another issue close to my heart. But still.
This news is troubling to me, especially given that I am about to go pick up the 40 book club books I ordered from my favorite local, independent bookstore,
The Book Table
. While they give the library a very good deal, and I have tax exempt status when buying for the library, I could probably still save a couple bucks by buying them from Amazon. But where would that leave me?
Jason and Rachel and their staff at
The Book Table
are huge library supporters and enhance our community by simply being open. I send patrons there all of the time when the book they need "immediately" is off the shelf at all of the area libraries. They have yet to fail me. In fact, I sent somewhere there just on Monday to grab a nonfiction title which was needed for school.
I used their online stock search
and found the patron a used copy for just over $5. If I didn't support them by buying books from them, they wouldn't be there to help me and my patrons when we needed to something. And who else could I talk to about books? Sometimes even I crave book conversation with non-librarians.
Besides, Jason and I are part of a three person team that puts on a fun presentation called,
Back to Books
. We will be appearing next at
Reaching Forward
on May 4th.
Anyway,
click through
or read the article below. I am sure Nancy Pearl will have a lot to say about the reaction to her announcement in the coming days. I say in the mean time, visit your local book seller. I will be at The Book Table tomorrow.
******************************************************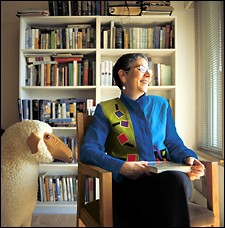 Nancy Pearl, the former librarian and bookseller, author of the Book Lust series, NPR book commentator and champion of reading, libraries and independent bookstores, is launching the
Book Lust Rediscoveries
series with Amazon.com.
The series of about six books a year will consist of Pearl's favorite out-of-print books that will be available "in print editions via Amazon.com and as audiobooks via Amazon.com and Audible.com, at bookstores, wholesalers and libraries nationwide and as eBooks in the Kindle Store," Amazon said. The company's statement had no information on how non-Amazon outlets might be able to obtain the printed versions of the books. The books will include introductions by Pearl, a list of discussion questions for book groups and suggestions for similar titles.
Pearl will donate part of the proceeds from the books' sales to the Nancy Pearl Endowment for Public Librarianship at the University of Washington's Information School. "Helping these wonderful books find new readers is, for me, a joy and a delight," Pearl said, adding that she has received many requests from readers who found some of her recommended titles--a significant number of which are out-of-print--difficult to find.
The first two titles in the series are:
A Gay and Melancholy Sound by Merle Miller, to be published April 3. ("Joshua Bland tells the story of his life growing up in small-town Iowa as a child prodigy to his career as a theater producer and his most recent divorce: a life marked by a failure to love and be loved.")
After Life by Rhian Ellis, which appears June 5. ("A charming novel that's part psychological thriller, partly a story of mothers and daughters, and partly something entirely original.")
The move has shocked some people in the industry.
The Stranger, the Seattle website, outlined why:
"Pearl built her fame on a career at Seattle Public Library and through partnerships with local bookstores. Many of the local librarians and independent booksellers who supported her can't stand Amazon.com, which means that things could get a little awkward around here real soon."