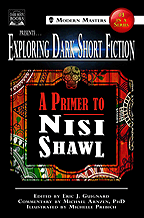 Nisi Shawl
is a writer and scholar of speculative fiction. She is especially gifted in the story and novella formats. A great
readalike
for
currently
popular
authors like Nnedi Okorafor and Nicky Dryden and for fans of Black Panther, Shawl has been writing
speculative fiction and winning awards for it for years
As part of his series exploring the masters of dark, short fiction critically acclaimed author and editor, Eric J. Guignard's newest entry is focused on Shawl.
Here is the official press release from
Dark Moon Books
:
Praised by literary journals, news outlets, and leading fiction magazines, Nisi Shawl is celebrated as an author whose works are lyrical and philosophical, speculative and far-ranging; "...broad in ambition and deep in accomplishment" (

The Seattle Times

). Besides nearly three decades of creating fantasy and science fiction, fairy tales, and indigenous stories, Nisi has also been lauded as editor, journalist, and proponent of feminism, African-American fiction, and other pedagogical issues of diversity.
Dark Moon Books and editor Eric J. Guignard bring you this introduction to her work, the third in a series of primers exploring modern masters of literary dark short fiction. Herein is a chance to discover—or learn more of—the vibrant voice of Nisi Shawl, as beautifully illustrated by artist Michelle Prebich.
This is the third Primer in a series. Included within each book are:




Six short stories, one written exclusively for this publication

Academic commentary by Michael Arnzen, PhD (former humanities chair and professor of the year, Seton Hill University)

Author interview, bibliography, biography, and more!

Titles in this series line include:

Vol. 1: Steve Rasnic Tem

;

Vol. II: Kaaron Warren

;

Vol. III: Nisi Shawl

;

Forthcoming--

Vol. IV: Jeffrey Ford

;

Vol. V: Han Song

;

Vol. VI: Ramsey Campbell
This entire series is great [
in fact, I featured it on the horror blog previously, here
] and every single book is available through your local ordering channels [B&T and Ingram], but this entry on Shawl is a must own for every library. Seriously, do you have people on hold for
Black Panther
. Do you have fans of
Victor LaValle
,
Octavia Butler
,
Binti
,
N.K. Jemisin
? I am not going to let you answer because not a single library in America can say no to all of these.
Since this is a smaller publisher and the series is worth everyone knowing about [the upcoming volume on
Han Song
, China's premier Science Fiction writer, will feature original translations of his work, many available for the first time in English!], I have partnered with Eric to give away
2 copies of the new Shawl book.
Here are the rules and restrictions:
The only way you can enter is through this google form.
You must currently work at an American or Canadian library and the book MUST be mailed to your work. I cannot require you add the book to your collections, but this is my intention. Please do not enter if you are not going to put this book in circulation to patrons.
All entries will be shared with Dark Moon Books. I am collecting your name, library address, and email only. By entering you are agreeing to these terms and conditions Please share professional info only. Eric will have access to this information for promotional purposes, updates, and news. Dark Moon Books is one of the best publishers of international dark fiction in America. I also featured their critically acclaimed A World of Horror: An Anthology of New Dark And Speculative Fiction Stories from Around the World in Library Journal this past summer.
The deadline to enter is 5pm Eastern on 1/31/19. I will contact the winners via email on the 31st and publicly announce on the blog as well.
If you are unwilling to share your info with the publisher, I totally get that, but if the book still interests you, consider just buying a copy for your library. Again, the entire series is available on both B7T and Ingram. Eric has also started the process of having the books available electronically on OverDrive.