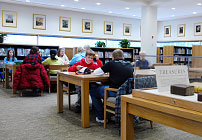 One Book One Garden
Tuesday, March 14, 2017
6:30 – 8:30 p.m.
Lenhardt Library
Free; pre-registration required
Join us for our new program, One Book One Garden—a book discussion at the Lenhardt Library.
One of the New York Times' Top 10 Books of 2015, our featured book is acclaimed author Andrea Wulf's most recent journey of discovery, The Invention of Nature: Alexander von Humboldt's New World.
Wulf brings to life Alexander von Humboldt (1769-1859), an intrepid explorer and the most famous scientist of his age. Humboldt's life was filled with adventure and discovery and he translated his research into bestselling publications that changed science and thinking. Called "the Shakespeare of the sciences" by his contemporaries, he inspired scientists, thinkers and writers including Darwin, Wordsworth and Jules Verne. Largely forgotten—despite his name gracing numerous towns, counties, bays, lakes, mountains, animals and more—Andrea Wulf's in-depth research and compelling writing shows the myriad fundamental ways in which Humboldt created our understanding of the world.
Selections from the Lenhardt Library's Rare Book Collection related to Alexander von Humboldt will be available for viewing during the program.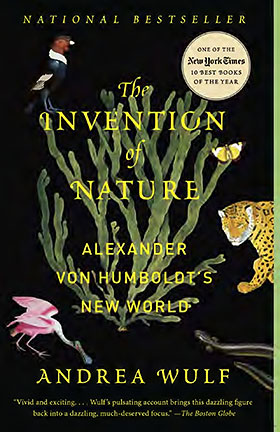 Our discussion will be led by reader's advisor, Becky Spratford, who trains library staff all over the world to match books with readers and lead book discussions. Please register early as space is limited.
The Invention of Nature won the Costa Biography Award 2015, the 2016 LA Times Book Prize for Science and Technology, and was selected by New York Times "10 Best Books of 2015." Read the Times review here.
Andrea Wulf is the author of five books, including The Brother Gardeners and Founding Gardeners. She has written for The New York Times, the Financial Times, The Wall Street Journal and the Los Angeles Times. Wulf is also the winner of the prestigious Royal Society Insight Investment Science Book Prize 2016 for The Invention of Nature.