I am so proud to have been a small part of the team of contributors who put this huge list of the
Best Books of 2019 together for Library Journal
.
With 17 categories, there is something here for every reader. The categories are also easy to use, including things like "pop fiction," "crime fiction," and many nonfiction categories. This is a list you can use with readers as you ask them what they are looking for in their next good read.
But, most importantly, the entire best books collection, each and every list, is diverse and inclusive, embracing the full range of the very best books published this year.
Congrats to all, both the authors who wrote these amazing books and my fellow contributors who did a great job selecting for each list.
Click on each category to link to that specific list.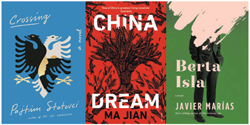 World Literature