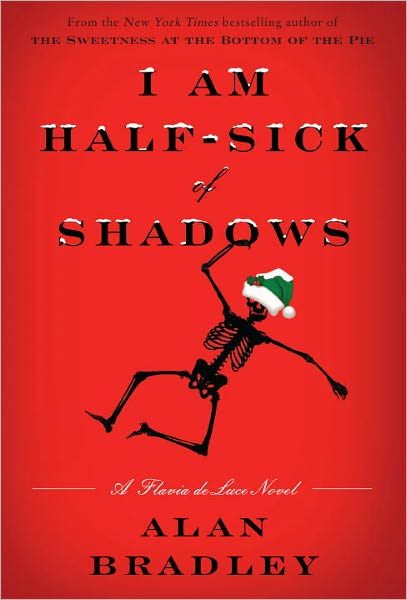 Merry Christmas Eve. Today I would like to celebrate the true joy of a child's Christmas by writing about the latest installment in Alan Bradley's Flavia de Luce series,
I Am Half-Sick of Shadows
.
Since it is Christmas Eve and I have already read and reviewed the previous 3 books in this fabulous series, I am going to take some shortcuts here today. So here is the plot from the publisher:
It's Christmastime, and the precocious Flavia de Luce—an eleven-year-old sleuth with a passion for chemistry and a penchant for crime-solving—is tucked away in her laboratory, whipping up a concoction to ensnare Saint Nick. But she is soon distracted when a film crew arrives at Buckshaw, the de Luces' decaying English estate, to shoot a movie starring the famed Phyllis Wyvern. Amid a raging blizzard, the entire village of Bishop's Lacey gathers at Buckshaw to watch Wyvern perform, yet nobody is prepared for the evening's shocking conclusion: a body found, past midnight, strangled to death with a length of film. But who among the assembled guests would stage such a chilling scene? As the storm worsens and the list of suspects grows, Flavia must use every ounce of sly wit at her disposal to ferret out a killer hidden in plain sight.
All the charm of past Flavia books is here. I went into details about the appeal and readalikes in each review. Please use the provided links for those details:
While the back story of the de Luce family is moved forward in a few subtle ways, the great thing about
I Am Sick of Shadows
is that it can be easily read as a standalone. It makes for a perfect Christmas story. It has it all. The entire town snowed in (with the reverend) at Buckshaw, the birth of a baby, and some family reconciliation.
Bradley is consciously nudging us to get the jokes too. For example, the closed room murder setting is very Agatha Christie-esque, and then later in the book, the Inspector even says that it is all very Agatha Christie like. This book is not going to force you to think. It is a sit back and enjoy with a warm cup of cocoa by the fire kind of holiday story.
But as in all of the books, the appeal lies in Flavia. Here Bradley perfectly captures the conflict of an 11 year old's desire to believe in Santa with her intellect's understanding that it cannot possibly be true. As the mother of a 9 year old going through similar thoughts, this book was especially moving and touching to me. In the finally lines, Flavia is still questioning whether or not Santa is real and then she opens the door to her lab...
If you are looking for a heart warming and fun Christmas read, this is a great choice for this year or any Christmas to come.
Three Words That Describe This Book
: charming, Christmas spirit, historical
Readalikes:
As I mentioned above, please use the links to the 3 previous entries in the series for more specific appeal and readalikes.
Also in December of 2008 I read,
The Man Who Invented Christmas: How Charles Dickens's A Christmas Carol Rescued His Career and Revived Our Holiday Spirits
by Les Standiford.
Click here
and scroll to the bottom of the post to read about it. This is another one of my favorite holiday themed books.
Merry Christmas to all and to all a good night!