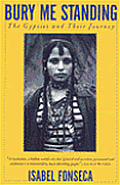 Yesterday, the BPL Monday Afternoon Book Discussion Club discussed
Bury Me Standing: The Gypsies and Their Journey
by Isabel Fonseca.
To set the book up both for you readers, and as I did with the group, I have
this review from Kirkus
from when the book first came out:
A journalist's vivid study of Eastern Europe's Gypsies (the Roma) that explores the myths, customs, and actuality of Gypsy life while addressing the central question of Gypsy identity in the post-Holocaust 20th century. Partly because they do not have a written tradition of their own, Gypsies have not figured prominently in mainstream scholarly and journalistic writing. Here Fonseca aims to give them the attention they deserve. Bury Me Standing is actually several works in one: socio-anthropological tieldwork, journalism, oral history, and colorful narrative. Although the ordering of its parts is at times chaotic, the study's diversity is an asset; it provides captivating, intimate accounts of Gypsy customs and gender and social relations, as well as serious consideration of scholarly debates and issues concerning the ill treatment of Gypsies in European history (slavery, persecution, the Holocaust, contemporary injustices). Fonseca has a knack for linking insight to wit and observation, as in this comment on Gypsy dogs: ""All seem to be lame or one-eyed or stub-tailed, as if their main job wasn't to protect or to appear faithful but to make people feel better about their own shortcomings."" But at the core of Fonseca's investigation lies her interest in the Gypsies' ""continual self-reinvention"" and their ""search for a positive identity"" to offset the reputation that burdens them in society. Some Gypsies have returned to their supposed Hindu roots. On the other hand, they have a strange reluctance to respond to the Holocaust (500,000 dead). If suppression of past Gypsy suffering continues, contends the author, their fate in the faltering democracies of Eastern Europe may be bleak. In the post--Cold War atmosphere of renewed nationalism and economic uncertainty, scapegoating is rampant. Fonseca's book comes at a crucial moment and could open an important discussion.
Earlier today I posted the questions I created for our discussion
here
.
Click through to see them
as they guided the discussion you will seen in note form below.
Here are the notes from our discussion:
6 voted that they "liked" the book, 4 disliked, and 5 so-so. We were all over the map.
Much of the so-so and disliked votes had to do with the way the book was written. Throughout the discussion comments came up about the lack of narrative flow throughout the book and Fonseca's insistence to not give us any insight into why she wrote this book. I went through my notes and compiled them all here in one place. But I think it is important to note that this part of the discussion was particularly organic; it came up frequently was discussed a bit and then even after we moved on it came up again.

Was this a dissertation? It felt like it a bit. (The answer is no)
I liked the travelogue organization. I went to this area in 1992 and again in 2005. I went with the idea that "I would see what I saw." I felt like she did this too, and wrote the book this way. But even though I went to the same places, I never saw what she did. I got a new perspective.
There was a lot of repetition in the book.
A GoodReads reviewer said that this book is full of characters but lacks character. I liked that description of the frustrating way it was written.
It was part ethnography, part history, part personal stories, part political, it was all over the map in terms of how it was written.
Although I appreciated how much I learned, I could never really get into reading it. It is not a book you settle in to read by the fire.
I wish Fonseca had a section, even a paragraph where she told us why she wrote the book. It would have helped unite the text and give the work a general framework.
As the discussion went on, one participant had an epiphany that we decided may explain why the book is written in an "all over the place" style. She pointed us to a quote on page 79 which says that the Roma have "No priorities. All events are equal, but serially important." Another example is given of a gypsy telling a story of a trial in the book and then describes when a chicken wandered in. To the Roma storyteller, the two incidents are equal in importance. This led us to think that maybe Fonseca wrote the book as a gypsy would tell the story of his people. She tried to take us Western readers out of our comfort zone and put us in the head of a Roma. Those of us, like me, who were frustrated by the lack of narrative flow in the book, loved this idea. We decided to go with this reasoning, and all present liked the book more when viewed in this light.

We all shared stories of what we knew about gypsies before reading this book. Of course, our experiences were mostly Chicago based. Lots of participants remembered encountering gypsies and being told to stay away from them. Many also knew of them as performers or fortune tellers.
I then asked people to talk about the things they learned by reading this book:

I didn't know there were so many different "tribes" and that they couldn't or didn't necessarily communicate with one another.
I never realized that they have no written language and that they are mostly illiterate. They have no history beyond 3 generations of the present. They have no origin stories. They have no united culture beyond the group they are currently with. Some do not even know that there are others like them scattered all over the world.
They really are an invisible people. They get marginalized because of the way they live. They also seem to use this invisibility to their advantage so they do not get persecuted. They want to be invisible so they are not seen.
They seem to make an Art of Forgetting. This is so against our way of thinking that it was jarring.
I was shocked at how the gypsies live still, in free European countries, but I was equally as shocked that some of the "rich" Roma still choose to live this way.
I can't believe how often and how recently they are still burnt out of their homes (2005 was the most recent one mentioned in the updated Afterward).
It seems the Roma live in the moment. As a result, they can adapt better to change, but on the other hand, they can't move past living in the moment. For example, the intellectual Roma are at a huge conference, but the three most important members are missing from a key panel because they are outside admiring cool cars. They shoot themselves in the foot a lot.
But, someone said, they have had to live in the moment for thousands of years to avoid extinction. How can you change your culture so completely after that long?

We all agreed that while Fonseca is definitely sympathetic to the Roma, she presents them fairly objectively. She admits where they have failed themselves. One line toward the end I pointed out was when Fonseca says that the Roma need to understand that they have a right to have their children educated, but they also need to understand the necessity of it as well. This is a fairly critical statement. But, Fonseca says things like this so dispassionately. One person stated that she wanted Fonseca to step away from the objectivity for a moment and convince her (the reader) to be more empathetic. She never did that. As a group we agreed with that point. This book made us feel bad for the gypsies but did not necessarily make us want to drop everything to help them either. That might not be quite right. We want to help them, but we still don't know how.
We talked for a bit about the early 1990s in Eastern Europe. This book couldn't have been written without the fall of the Iron Curtain. We talked about the people living through the transition to democracy and how the gypsies made good scapegoats when things were going badly.

One participant also brought up that the human rights issues surrounding the Roma are a huge issue right now because these countries all want to get into the EU and they have to clean up their human rights issues to get in.
This book is possible because of the borders being more open to Fonseca, democracy making information more available, and people feeling more willing to share their feelings.

After reading this book, I asked the group to talk about what the future holds for the Roma. Here are the responses:

More of the same
Still scapegoats
They are the largest minority in Europe; there has to be some power there.
Why hasn't anyone taken up where Fonseca has left off and written part 2 of this story.

In America, black and gays only made strides with mainstream support. We don't see that here. Can the Roma move forward without it? No one else has. Need another book by a non-Gypsy like this one to help.
But on the other hand, they don't want mainstream, Western people's help because then they would have to play by mainstream rules. Such a catch-22.

Without increased literacy, I do not see improvement
Like the American Indians they have been dumped in uninhabitable places. How can they move forward when starting off so badly?

I asked what people thought the overall tone of this book was. Here are the answers:

sobering
frustrating
tragic
sadness
uplifting to know it was written and people read it
inspiring
futile
educational

Before we closed, I gave people time to share favorite "characters" and memorable events. I had trouble keeping everyone from talking at once here. I will not recount what was said because it would spoil some of the better parts of the book, but I will say that this was a great line of questioning.
We ended with a discussion of the title. Actually, I had to stop people from talking about it at the beginning. I usually don't make people wait for specific questions; I tend to let the discussion dictate its own low, but in this case, I wanted to wait until we had talked about the book more.

The question I wrote is: "

The title of the novel comes from the penultimate page of the book: "Bury me standing, I've been on my knees all my life." (p.304). This was said as a farewell statement to Fonseca by a Roma man. She presents this statement and leaves it to "stand" on the page without much comment, yet she thought it important enough to title the book. Why? What does this title mean to you in relation to the entire text?"

Here are their responses:

They have been begging their whole lives and hope to be given the dignity to stand up in death.

I saw it as the futility of this story; the futility of their plight as a people

I think it is interesting that this statement is one of the most emotional in the book. This book is filled with emotional stories but lacks emotion. I thought this quote sums that up so it is good to sum up the book as a title.

The quote sets the tone of the book and it serves as a bookend (pun intended) to the story of the persecuted gypsy folk singer that opens the book. So it makes a good title for that reason.

It came from a gypsy and not Fonseca. She let them title their story.
Readalikes:
There are many places you could go with readalikes here. I will begin with suggestions for learning more about the Roma:
The Gypsies by Jan Yoors is an older title and only focuses on one group of travelling gypsies
We Are The Romani People by Ian Hancock is a newer title. Hancock is mentioned in Fonseca's book. He is a gypsy, so this gives a different perspective.
American Gypsy by Oksana Marafioti is a recent memoir, but again, it is the view point of one person and as we learned in Fonseca's book, Roma can be very different from one and other.
The links to the above titles on Amazon also offer more suggestions.
Another readalike suggestion are is to look for books on the region (Eastern Europe), especially those that deal with the 1990s. Many of these books include a discussion of the Roma. One of the most critically acclaimed is Robert Kaplan's
Balkan Ghosts: A Journey Through History
.
On the fiction side, one participant mentioned that gypsies played a pivotal role in Book 5 in the Maisie Dobbs series by Jacqueline Winspear--
An Incomplete Revenge
. She thought that Winspear's treatment of the Roma people made a nice companion to Fonseca's book. I did run a search on NoveList for more adult fiction about gypsies, but I am unhappy to report that they don't look like viable readalike options here. They all seem to play off the gypsy stereotypes instead of presenting an objective view.
Back in 2008, our book club read
The Lemon Tree: An Arab, a Jew, and the Heart of the Middle East by Sandy Tolan
. These books share a lot in common. Both are about complicated struggles of oppressed people. Also both books take a fair look at all sides of the issue.
A participant mentioned the current reality TV show on National Geographic Channel, American Gypsies that follows a New York Gypsy family. Click
here
for the show's website.
Finally, over on GoodReads, I saw that readers of
Bury Me Standing
had placed it on a list entitled,
Essential Non-Fiction Reading Re: Human Rights
. The top book on that list was
Nickel and Dimed: On (Not) Getting By in America by Barbara Ehrenreich,
a book we read (pre-blog) in book club. I can see the shared appeal. In fact, I mentioned this readalike option to the group and they agreed, noting that both books teach you about something that is hiding right under the surface, for which we shamefully knew very little about.
Next month
the group is tackling its first Graphic Novel. I can't wait to see how it goes.