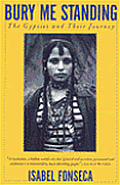 Yesterday, I hosted the monthly BPL Monday Afternoon Book Club where we had a lively discussion of
Bury Me Standing: The Gypsies and Their Journey
by Isabel Fonseca. There are no publisher suggested questions for this book, so I created my own.
You can feel free to use these questions for your book club. Just use this permalink to RA for All:
http://raforall.blogspot.com/2013/02/bury-me-standing-book-discussion.html
I myself used the
Lit Lovers
guide to
general questions for nonfiction
and those for
fiction
(even though this was a nonfiction book) to help me create my specific questions.
Discussion Questions for Bury Me Standing by Isabel Fonseca
This book is all about the Gypsy or Roma people. What did you know about the Roma before you read this book. How did Fonseca describe their lives? Did you feel she was objective in presenting the gypsies? How surprised were you by their culture? How different is it from yours?

Fonseca did her research and travel among the Roma in the 4 years just after the fall of Communism. How tied to its specific time and place is Fonseca's book?

What are the major themes of the book-- human rights, oppressed peoples, cultural unity, something else?

How did you feel abut the way Fonseca organized the book. Did it have a narrative flow? Why or why not?

What were the memorable people, places, or moments for you from this book? What images, events, and people were the most troubling.

Fonseca forged new ground in this book by attempting to trace the origin story of the Roma people. How solid is her research? There has been some controversy surrounding Fonseca and this book. Why do you think that is?

This book first came out in 1995 and is still the only comprehensive treatise solely about the Roma by an outsider. Why has no one else from outside the culture continued to probe this issue more?

What is the overall tone of this work? Hopeful or hopeless? Uplifting or depressing? Inspiring or futile?

What is Fonseca saying about assimilation in her book? Does she think it is possible for the Roma?

What do you think the future holds for the Roma people now that democracy has come to Eastern Europe and a global dialogue about their plight has begun?

The title of the novel comes from the penultimate page of the book: "Bury me standing, I've been on my knees all my life." (p.304). This was said as a farewell statement to Fonseca by a Roma man. She presents this statement and leaves it to "stand" on the page without much comment, yet she thought it important enough to title the book. Why? What does this title mean to you in relation to the entire text?
I would highly suggest this book for a great backlist discussion group option. In the next post I will have details about our specific discussion for you to see how it went. Also, when we finish this 6 months cycle of book discussion titles here at the BPL, we will be adding this to our circulating "Book Club Collection."