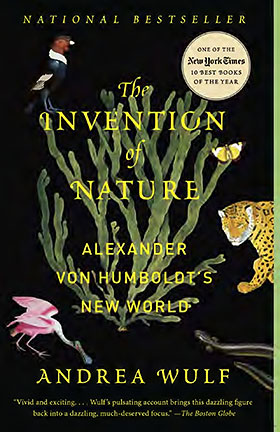 As I mentioned in this post,
tonight I am leading the first One Book One Garden book discussion at the Chicago Botanic Garden.
Click through
for all of the details.
Today I have the original readalike document I created for this event, a few resources I consulted in preparation for the discussion tonight, and the discussion questions I created. Next week I will follow up with a detailed report of our discussion.
Let's get started.
Our book is
The Invention of Nature: Alexander Von Humboldt's New World by Andrea Wulf. From Goodreads
:
The acclaimed author of

Founding Gardeners

reveals the forgotten life of Alexander von Humboldt, the visionary German naturalist whose ideas changed the way we see the natural world—and in the process created modern environmentalism. Alexander von Humboldt (1769–1859) was an intrepid explorer and the most famous scientist of his age. In North America, his name still graces four counties, thirteen towns, a river, parks, bays, lakes, and mountains. His restless life was packed with adventure and discovery, whether he was climbing the highest volcanoes in the world or racing through anthrax-infected Siberia or translating his research into bestselling publications that changed science and thinking.

Among Humboldt's most revolutionary ideas was a radical vision of nature, that it is a complex and interconnected global force that does not exist for the use of humankind alone.
Now Andrea Wulf brings the man and his achievements back into focus: his daring expeditions and investigation of wild environments around the world and his discoveries of similarities between climate and vegetation zones on different continents. She also discusses his prediction of human-induced climate change, his remarkable ability to fashion poetic narrative out of scientific observation, and his relationships with iconic figures such as Simón Bolívar and Thomas Jefferson. Wulf examines how Humboldt's writings inspired other naturalists and poets such as Darwin, Wordsworth, and Goethe, and she makes the compelling case that it was Humboldt's influence that led John Muir to his ideas of natural preservation and that shaped Thoreau's

Walden

.
With this brilliantly researched and compellingly written book, Andrea Wulf shows the myriad fundamental ways in which Humboldt created our understanding of the natural world, and she champions a renewed interest in this vital and lost player in environmental history and science.
The Invention of Nature
was universally adored when it was published [much like Humboldt was in his own time]. Here are some of its accolades:
NATIONAL BEST SELLER

Shortlist -- Costa Biography Award

Finalist -- Carnegie Medal for Excellence in Nonfiction

Finalist -- Kirkus Reviews Prize for Nonfiction

A

Publishers Weekly

Best Book of the Year

New York Times 10 Best Books (2015)
Wulf gave many interviews when the book came out. Here are some of the best:
Click here
for the readalike handout I created for this specific discussion.
And finally, here are the questions I have created to facilitate this discussion. If you chose the use this book for your group, feel free to use these but
please credit this post on RA for All
as your source.
Discussion Questions for The Invention of Nature by Andrea Wulf
Questions created by Becky Spratford
Alexander Von Humboldt has more places named after him than anyone who ever lived on earth. He was the second most popular person in Europe behind Napoleon during his lifetime. Why is he mostly forgotten in the English speaking world? Can you think of an equivalently, ubiquitously famous person now who like Humboldt is famous, not for inventing something or discovering something but just because of who they are and how they lived their life? Will they still be remembered in 200 years? Does it matter since his spirit and ideas live on?
The Invention of Nature is marketed as a biography of Humboldt, but is it more than that?
What did you think about Humboldt the guy? He was unique even in his own time. Does it matter for his legacy, for anyone's legacy.
Wulf has a very distinct writing style and made specific choices in how she was going to tell Humboldt's story. What are your thoughts on how the book was organized and how the "story unfolded?"
We get a few mini-biographies in this book. Do you want to talk about any of the following "characters" in more detail: Darwin, Thoreau, Goethe, Bolivar, Marsh, Muir, Wilhelm [his brother]? Others?
Political situations throughout the world played a huge part in this book. Did that surprise you? How did politics, both Humboldt's own and the politics of the countries and people he deals with, effect his work, travels, and discoveries?
Humboldt was a genius "polymath," one of the last scientists who did not specialize. Why did science turn toward specialization after him? What are the positives and negatives of this move toward specialization? How does this effect all higher education today-- not just science?
What would Humboldt think about our world today? What would be his reaction? How would he express his beliefs today? Blog? Twitter? Talk Show? Books?
Where would Humboldt want to travel today? What would he most want to study?
Who is carrying Humboldt's legacy today? Ideas: Neil deGrasse Tyson? Michael Pollan? Ira Flatow? How important is it for science to have a popular voice?
What is Wulf's aim in writing this book? Do you agree with her thesis? Who would you suggest this book to? How would you entice them to read it?