The year is winding down and I have 4 more posts [counting today] before I will officially post my top 10 reads of the year for blog perpetuity on 12/31.
Today it's a quick 3-for-one round up of some graphic novels I enjoyed in the last third of 2014. But please note, I saved these to be reviewed together for a reason; there is a nice progression here.
In the heat of August, I read the third volume in a horror graphic novel series that is set in a frozen winter in Wisconsin,
Revival Volume Three: A Faraway Place
by Tim Seeley and Mike Norton.
I read and reviewed the first 2 volumes on the horror blog here
. Please read that review, because the set up and appeal here is still the same [and quite honestly, why would I take the effort to post a review and
archive it
if you don't go read it].
Here is how I feel now that we are 17 issues in. This is a solid, creepy, atmospheric, supernatural crime story. It is still very dark, with fantastically complex female characters (which in horror is worth pointing out), but I think the authors are still finding their way story wise.
The plot got a bit muddled here in the third compiled volume, but not in a way that I would not continue. I think we are simply at the point in the plot where a big revelation or a plot twist is coming. The problem with complex stories told in graphic novels is that we have to wait to wait for more issues to see the entire story arc unfold, and since I read them compiled, I have to wait longer.
However,
Revival
is still very good. It is an excellent choice for fans of dark, character driven, supernatural graphic novels. It is interesting from a psychological standpoint, and is very thought provoking.
By the way,
Revival Vol 4
came out this fall. I'll be reading it soon.
Three Words That Describe This Book:
dread, strong female characters, thought provoking.
Readalikes:
I posted many for a wide variety of reading tastes
here
. But to that list I would also add the stories of
Edgar Allan Poe
. This series has the same creepy, psychological feel as all of his work.
Another graphic novel series I read [and love] is
Chew
by John Layman and Rob Guillory. This summer they released the
4th compiled volume
of this dark, dystopic, character driven series.
I saved this review to run with
Revival
for a few reasons.
The two series are readalikes for each other.
They recently had a cross over issues.
3. Like Revival, early into the story of Chew I was also feeling like the overall story arc was getting muddled. I knew that the growing pains had to happen, and that I had to be patient while the story was unveiled, but because I loved the set up and where I thought it was moving, I was anxious to get to the meat.
[So,
Revival
, you are lucky that
Chew
has turned such a fantastic series because I am staying patient for you.]
Yes,
Chew
has matured into everything I thought it would and could be. This is a robust, highly engaging, and delightfully original [without being crazy] series. The plot, the characters and the art have matured into some of the best in the entire graphic novel industry.
Again, for more setup, I have talked about the story, the art (which I LOVE), and the appeal of both at length
here
. But without giving away details, just trust me-- if you like non-superhero, graphic novel series, and don't mind speculative elements, read
Chew
. How often do you get fun, interesting, and thought provoking stories in any format?
Three Words That Describe This Book
: original story, eccentric characters, dark humor
Readalikes:
Click here
for a ton of suggestions. I also think that fans of J
im Butcher's Dresden Files
might also enjoy the supernatural, criminal investigations here. I have had luck giving fans of the Butcher series
Chew.
Also,
Hellboy
is a nice readalike for the dark, at times gruesome, but still darkly humorous storytelling here. Although the art here in
Chew
is much brighter, and lightens the dark tone of the series quite a bit. Some
Hellboy
fans might not enjoy that. But I have noticed that the two supernatural crime series both attract a large number of female readers, for what it is worth.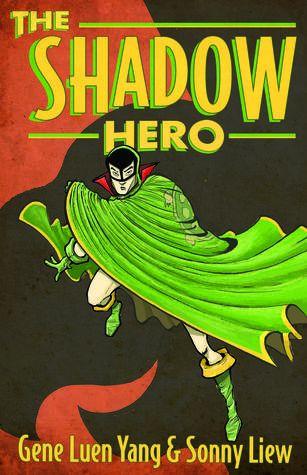 Now, check out this transition to the third graphic novel [because I did plan this]....
Tony Chu and his entire Asian-American family who are the stars of the popular and award-winning Chew series, owe a lot to the very first [arguably] Asian American character in comics history, The Green Turtle.
Yes, I said The Green Turtle. What you haven't heard of this classic 1940s superhero? Don't worry, you are not alone. He has largely been lost to history. But thanks to the fabulously talented and multiple award-winning
Gene Luen Yang
, with help here from Sonny Lieu we can all know learn about The Green Turtle and read his origin story in their graphic novel,
The Shadow Hero
.
Yang and Liew take the interesting history behind this forgotten superhero and create a YA, coming of age, graphic novel about a 19 year-old, second generation, Chinese American boy in NYC's Chinatown-- the young man who would become The Green Turtle. While set in the 1940s, this is a very post-modern, 21st Century inspired story as the boy becomes a superhero at the nagging of his overbearing mother.
While the original story/superhero stuff here is fun and interesting, it is the characters, their motivation, and the historical frame that shine here.
After the origin story that is the meat of this volume, Yang has written a history of The Green Turtle and included some of the actual comics. I found learning about the true story behind The Green Turtle both shocking and interesting. That part alone is worth a read.
The art here is in the style of classic comics of the era, but in sort of a "wink-wink," hipster, knowingness sort of way. They know you know that it is in that style, so they pull back a little and put a tiny bit of a modern spin on it all.
Page through the book
and you will see what I mean.
Three Words That Describe This Book:
forgotten superhero, historical, Chinese Americans
Readalikes:
Technically,
The Shadow Hero
is a YA novel, but it clearly appeals to adults who are also interested in the history of comic books. And if you are one of those adults and you haven't read
The Amazing Adventures of Kavalier and Clay
by Michael Chabon, you need to go get a copy right now. This if one of my personal, all-time favorites.
But if you want another Asian-American, graphic novel which is okay for teens to adults, NoveList directed me to
Ichiro
by Ryan Inzana. [By the way, Novelist also has a great Recommended Reads list on Asian Teen Lives for more titles with this appeal.]
If you want to read other superhero comics, I think the older Superman comics are a great readalike here since this was created in a similar time period. But in general, any of the original comic book characters from the 1930s and 40s are a good bet here.
Finally, those interested in getting a big picture overview of the history of comic book superheroes should get their hands on one of these two encyclopedias.
Back tomorrow with another review.