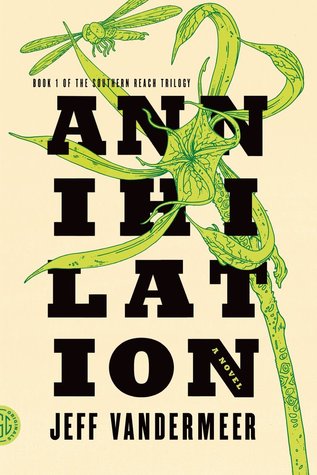 This weekend,
Annihilation
by Jeff Vandermeer won my favorite book award,
The Shirley Jackson Award
. It has also won the prestigious
Nebula
and was a huge hit on this year's
Tournament of Books
[among many other deserved accolades].
Here is the Becky soundbite review for this genre defying book: "Four female scientists set out on the 12th expedition to explore the undefined and possibly expanding Area X, in the swampy southern reaches of the US. The previous 11 expeditions have failed, leaving no survivors. Our
unreliable narrator
, the biologist, leads us through this
compelling
,
menacing
and
unsettling
story that ranges in tone from
adventurous
, to
weird
, finally moving into the
grotesque
. But, I dare you to stop thinking about this book after you close its final page."
Again, I write these 30 seconds or less soundbites to hit at enough of the major appeal for you to use at work. You can use this as you are hand-selling books to patrons. It gives the patron a feel of the story with carefully selected strong words that will let the patron [and therefore you the librarian helping them to find their next good read] know right away if this is a book they want to look at more closely. If you use them in print,
please cite this post
.
Here those strong words- the key appeal terms-- have been bolded for you above.
I am really trying to make my reviews more useful as you help readers in the library. I have included the link to the Goodreads entry- complete with summary info- in the first line. You don't need me to recap. You need me to help you to market the book to its best reader. And traditional reviews talk more about the quality of the book. I am trying to help you understand the type of reader it is best for.
Now let me talk about this novel as a reading experience. Why? Because reading
Annihilation
was unlike any reading experience I have has in a long while-- in a good way. This book consumed me much like the expeditions consumed their participants. I inhaled this book in one sitting on an airplane ride from Chicago to Honolulu back in March. It was the perfect length, it's only in paperback, and the writing style and pacing lends itself to being read in 1 big chunk (or at the very least 2 slightly smaller) ones.
The set up is intriguing and compelling. You want to read to see what happens to this specific expedition. Will they make it? What will they find? What has heaped to the others? You are holding your breath from the start. But then there is a surprise beyond the plot, and it is the writing itself. The language gets more beautiful and intricate the weirder and more grotesque the story gets. That was also a very cool experience. It adds to the squirm factor here. [Although to be fair, I did give this book to a patron who I thought would love it, but not being a reader for language, she felt it had "too many words."]
In the process this novel that started as an adventure,
morphed
into something more [italics intentional, but you have to read the novel to see why]. It becomes a story about the biologist and her inner psyche. It also becomes a story about the power of nature and what it means to be a scientist. And it becomes a cautionary tale about life itself.
This novel is the perfect example of how great storytelling trumps "genre" labels. Is this science fiction? Horror? Dystopian? Psychological Suspense? Scientific Thriller? Literary Fiction?
Who cares? It's a great, unclassifiable story. It has a bit of all of those in it. It is also the epitome of what the very best fiction is today.
I wrote about that in more detail last moth here.
One final point about
Annihilation
is that it is
Book 1 in The Southern Reach trilogy
. These books were all released last year, in a row, all in paperback, but it is a series that does not require you to read all 3. The other 2 books are based in the world of Area X but from different angles. Many will be happy with just this first one. Others will want all three. The choice is nice to have. If you do read more than 1, please read them in Vandermeer's preferred order, however.
Three Words That Describe This Book
: unreliable narrator, menacing, thought provoking
Readalikes:
Interestingly, I thought of 2 authors as readalikes immediately and was only slightly surprised to see that they were both also finalists with
Annihilation
for this year's
Shirley Jackson Award
.:
Bird Box by Josh Malerman which I love, love, love. The two novels are strikingly similar in their feel and overall appeal. Click on the title for details.
Lauren Beukes who was nominated for Broken Monsters and for whose The Shining Girls I still have to write a review. [Preview of my thoughts: it was the best, most original serial killer book I have ever read.]
Which leads me to an excellent point, one of my favorite RA suggestion tools is to find an award list that works for a specific reader.
Here is my popular post on how to use awards list as a RA tool
.
I am currently doing this with a former patron (still working for her via text even though I left the library) using the
Mary Higgins Clark award list
. And here is a post about my general love for
The Shirley Jackson Award
.
If you like how this is an unclassifiable novel with many genre fiction tendencies, a thought provoking plot, but no specific genre to call home you should definitely read
Zone One
by Colson Whitehead.
The Caretaker of Lorne Field
by Dave Zeltserman is a backlist "weird" title that can also be inhaled in 1 sitting. Here is
my review
of that title with more readalikes. Thinking back on it, the Zelserman novel shares a lot of similarities with
Annihilation
in storytelling style, and tone, but mostly in how such an odd story completely traps you into its world.
Finally, in their
Weird Fiction Review
, the Vandermeers are constantly suggesting "weird" authors. I would suggest going
there
to get some more ideas of unique, dark storytellers.
Here is a post from back in 2011
when I talked about this site; it includes an interview about what "Weird Fiction" is with Neil Gaiman.