I am now doing reviews for Booklist. As they go up on the site and are published in the magazine, I will link to them here. But for the blog purposes I will repost the unedited versions with a little bit extra, including my 3 words and possibly a few more readalikes than the ones I managed to work into the review itself.
In terms of my new "soundbite" feature I have been adding into my posts on the books I have read, think of the official review [which you can access with the link at first for free and then with your library's subscription login as they get older] as that soundbite.
Okay, now that the housekeeping portion of the post is out of the way, time to move into the reviews of three HUGE books which will have a very wide readership.
Here we go:
Slade House by David Mitchell [not out until October]. The review was first published in the 9/15/15 issue of Booklist.
In this slim and compelling novel, literary fiction stalwart Mitchell offers his most accessible book yet- a haunted house story in the vein of classics like
The Turn of the Screw
and
The Haunting of Hill House
. Written as five distinct chapters, each set on the last Saturday in October, spaced nine years apart, the novel follows the nefarious exploits of the Grayer Twins who inhabit the eponymous home, hidden in a narrow alley, behind a pub. Each chapter is told through the point of view of the poor soul who has been unknowingly summoned to the home as a sacrifice to the twins. Readers will appreciate how over the thirty-six year span, characters and story threads overlap to craft a unified, psychological tale. As in his more ambitious works,Mitchell gives reads the same genre blending, intricate plotting, and thought-provoking storylines, but here his scope is smaller, as he narrows his focus onto the intensely unsettling tone. Suggest to fans of Audrey Niffenegger, Karen Russell, and Steven Millhauser, and expect it to be read as a Halloween staple for years to come.
This book was awesome and can be given to many more readers than you normally would for a Mitchell novel. It has everything that is great about Mitchell in one short, fast paced book.
Three Words That Describe This Book: genre-blending, unsettling, episodic
Readalikes: There are plenty packed into my review.
Following up on the huge success of
The Sisters Brothers
, deWitt has another askew masterpiece on his hands, this time turning his unique narrative voice onto the familiar tropes of the fairy tale. Lucien (Lucy) Minor leaves his home, by train, to accept the position of the assistant to the majordomo of Castle Von Aux— aka "undermajordomo." A darkly humorous adventure ensues, as Lucy leave home as a boy and becomes a man. Throughout this journey, Lucy encounters many memorable characters, including, two thieves who become his best friends and surprising moral conscious, a tall, dark, and handsome solider, fighting an unseen war against an unnamed enemy, and the beautiful Klara who captures his heart but not without competition. The highly nuanced characters are king in this tale. More than a compilation of quirks, each new character adds depth to the story, opportunity for growth in Lucy, and just plain fun for readers. To keep the pace moving swiftly, deWitt breaks up the novel into several sections with tongue-in-cheek titles of their own such as, "The Location, Apprehension, and Restoration to Normality of the Baron." Readers who love The Princess Bride or the movies of the Cohen Brothers will be thrilled with this novel.
deWitt has delivered another intriguing, compelling, and thought provoking winner that will appeal to anyone who wants to be captivated by a smart, entertaining read.
Three Words That Describe This Book: askew, captivating, adventure
Readalikes: Like the Mitchell above, Karen Russell is a great readalike, but more her stories. Also, Elizabeth McCracken, Kevin Brockmeir and Keith Donohue. Click on their names to get more info from me on each of them.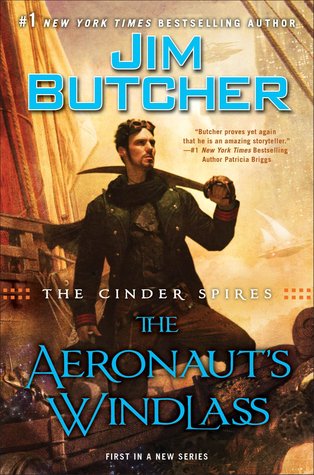 Butcher, the best-selling author of The Dresden Files, introduces a new epic fantasy, steampunk hybrid series that has shades of both Naomi Novik and Cherie Priest, set in a world where people live in highly developed societies housed in spires that protrude into the sky. Each spire has its own guard and fleets of airships to use for trade and defense; fleets made up of Master and Commander style ships that float through the mist shrouded skies, powered by magical crystals. A disgraced fleet captain and a group of young guardsmen and women loyal to Spire Albion are forced together after a surprise attack by Spire Aurora, but as they soon learn, this attack is much more than a simple war between Spires. With shifting points of view, short chapters, fast-paced action, and awesome battle scenes, the large cast of characters, world building, and intricate plot are revealed quickly and realized fully. It all reminds readers of when they first fell for Harry Dresden. The Cinder Files will be sure to attract fans new, old, and even lapsed to Butcher, increasing interest in all of his novels.
This is an exciting and fun read. I haven't read a Dresden Files novel in years and was not expecting much, but this was great. I think the new setting and characters really energized him. This was an excellent book and will make a fascinating new series.
Three Words That Describe This Book: steampunk, fast-paced, large cast of
characters
Readalikes:
I listed 3 up there in the review. They all work for different reasons. For me, the Novik is the closest, but the Priest ticks all of the same steampunk and coming of age boxes. The links go to my reviews of their books previously posted her on the blog.
I think that Jack Campbell's science fiction
Lost Fleet Series
is also a great readalike option here.