I have two horror reviews in the 12/1/16 issue of
Booklist. Both received stars, although I want to point out the second one here is shockingly good and it's a DEBUT!!! Finally, both are great options for teens as well as adults.
Please note, most of the other titles in these reviews link to more reviews by me. Click through for even more information and/or readalike options.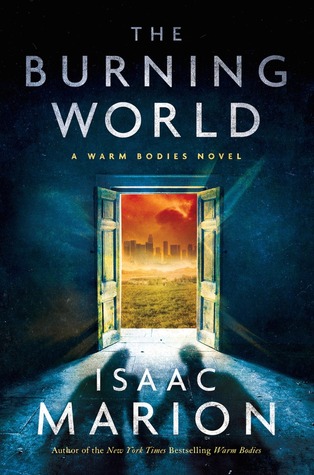 The Burning World by Isaac Marion
In 2011, Marion released
Warm Bodies
, a refreshingly unique post-apocalyptic zombie novel. It told the love story of R, a recovering zombie, and Julie, a human girl. It's popularity led to a movie and a clamoring for Marion to release a sequel. But it was clear that in order to continue R and Julie's story, Marion would have to deepen the world building and characters, so he went back and wrote a prequel,
The New Hunger
(2013). Now, Marion has finally returned with that much desired sequel,
The Burning World
, and his efforts at laying a more stable groundwork behind the Warm Bodies world made it worth the wait. R and Julie are still helping recovering zombies rejoin the slowly healing world, but a new threat flies in, a corporate entity known as Axiom, with henchmen, secrecy, and violent domination on their minds. R, Julie and their friends, including an Axiom employee, end up on the run. What follows is a cross country journey to discover the truth behind Axiom and just how much of humanity is left out there, but along the way, our heroes also begin to understand more about themselves, their personal pasts, and how they each fit into the story of the end of the world. With exciting action sequences, intriguing new characters, and a much more epic scale to the story,
The Burning World
will leave readers satisfied but eagerly anticipating book four. Suggest to fans of epic horror with a science fiction tilt like Justin Cronin's The Passage trilogy or Mira Grant's Newsflesh series.
YA Statement- With a full cadre of "new adult" heroes trying to save the world while also looking for just how they fit into it, teens will find much to continue enjoying in this series.
Further Appeal
: Okay, let's be honest, Marion could have phoned it in here. But I really want to give him credit for going back and writing the prequel first to build up the foundation of the world and then move to the sequel to the enormously popular Warm Bodies.
The Burning World
moves the story away from its narrow scope, literally and figuratively which is a big change, but I think a good one.
Also, this novel introduces familial love back into the story through a few different characters. This makes sense as the characters are shifting from survival mode to actively trying to rebuild society.
Three Words That Describe This Book: exciting action, epic scope, moving
Readalikes:
Other apocalyptic but non-zombie titles that readers may also enjoy include:
Station Eleven by Emily St. John Mandel because like The Burning World, we see flashbacks to how the world was destroyed and see a moving portrait of how people are trying to piece it back together.
The Age of Miracles by Karen Thompson Walker because like The Burning World we see the apocalyptic event through the eyes through a young person. In this case, the full weight of the apocalypse hasn't taken hold yet, but it is coming.
In 1961, the small town of Haven, Massachusetts was terrorized by a series of child murders. When a local, disfigured, young man, Paul Greymore was put in jail, on shaky evidence, for the murders, the residents of Haven thought they could go back to a peaceful life. However, in the unseasonably warm spring of 1978, 17 years later, Paul has been released, is reconnecting with those who believe in his innocence like the local Priest, a young neighbor named Denny, and his best friend Billy, when the strange killings start happening again. Some old grudges are leading the police chief to target Paul, but the evidence clearly points to something evil and monstrous lurking in the caves and lake in the town's forest. Paul and Denny lead a ragtag group of unlikely heroes, heroes with as serious things to overcome in their personal lives as they do with the human and supernatural threats endangering their community. With compelling characters (both good and evil), a shifting narration that keeps the story moving, a slowly unveiled, but relentlessly building sense of dread, a recently unearthed and devastating secret from the past, and breathless action sequences,
Haven
is a well crafted example of what is best about horror today, and this is only Deady's first novel. While obviously for fans of
Stranger Things
and classic, 1980s, small town horror by those like King or Straub, don't let the novel's setting keep you looking in the past. There is a 21st Century perspective behind this tale similar to Jonathan Maberry's award-winning Pine Deep Trilogy or Jonathan Janz' Children of the Dark. Hand out freely to anyone looking for a solid scare.
YA Statement- With strong coming of age themes and young, outcast heroes leading the charge against the monster and town bullies, Haven is the perfect choice for teens looking for a bit complexity to go with their chills.
Further Appeal:
I just want to reiterate how good this novel was. I had everything you want from an old fashioned horror novel, yet it didn't feel dated. This is a debut novel that I want to make sure libraries order and hand out to patrons who love any of the authors I mentioned above. They will not be disappointed.
Three Words That Describe This Book:
sense of dread
, shifting pov, compelling characters
Readlaikes:
Besides the many I crammed into the review, I would also suggest this to your fans of Paul Tremblay, especially Disappearance at Devil's Rock and Hex by
Thomas Olde Heuvelt.