Today I have 2 quick reviews of books by authors who I have read all or most of their books. While these are both very popular and safe to suggest to a wide range of library patrons (as I will discuss below), personally, I think I am done with both for awhile. Why? Well for me it is because I feel like I know what I will get with these authors and there are plenty of reading surprises out there for me.
I mention this up front for a couple of reasons-- both of which have RA implications. First, I like to keep my reviews to being about the best reader for each book, and since these are solid authors who provide a great reading experience with each book, there are many readers who will love each new release. But, second, there are readers, like myself, who love a series or an author, but have also had enough. For every reader who wants the safety of a known quantity book, there are readers who are looking for something new and need to move on.
With that general RA dichotomy out of the way, here are quick reviews of 2 books I read back in the early days of 2015. Both are Crime Fiction and both are set in boarding schools, although the share very little else in common.
As Chimney Sweepers Come to Dust
is the 7th Flavia de Luce Mystery. I have read all 7 and have very detailed reviews which
you can access here
.
I am not going to waste the time rehashing it all, but a key point that needs to be said upfront in that the series made a big shift with this 7th book. It was not a surprise, as
book 6 ended
with a huge twist revealing....
wait....SPOILER ALERT...skip until you see the next book cover if you don't want to know....
Okay, as I was saying,
book 6 ended
with Flavia learning that she is actually part of a super secret spy ring (which her mother was also a part of) and that her whole family knew about it. This explains why they let her get involved with so many mysteries at least. So as promised in book 6, book 7 is Flavia being shipped off to a special school for brilliant, girl, spies in Canada.
What follows is pretty much the same type of story/mystery that Flavia has been involved with in the past except without all of the characters we had grown to love back in England, which is good or bad depending on the reader.
The key to suggesting this series is to have people
start at the beginning
. If they love Flavia they will love the change of scenery. These books are too smart to be stuck in place forever. But then again, many readers will not be happy, that the story they love has changed so much. Just be forewarned. I have found it to be 60-40 in favor of the change. The 40% were mostly unhappy that the predictability of one of their favorite series was shook up. I am wondering when book 8 comes out if they will settle back into the pro-Flavia camp-- once they are used to it.
Three Words That Describe This Series
: quirky, intelligent, engaging
Series Readalikes:
I have given many
here
. But here is one new one, The Mary Russell and Sherlock Holmes Mysteries beginning with
The Beekeeper's Apprentice
by Laurie R. King. Both feature young, precocious female detectives.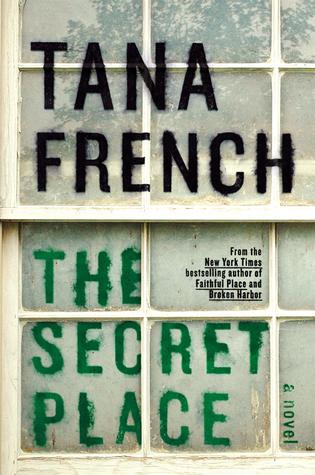 Now while Flavia is a bit on the cozy side, Tana French is not. Her dark, psychological suspense novels featured troubled protagonists, troubled victims, and troubled suspects. Everyone has secrets to hide, skeletons in their closets, and rarely does anyone make the "right" decision. Yes, even the "good" guys are not all good.
I have read most of her standalone (but loosely linked) Dublin Murder Squad novels
. You can access the reviews
here
. While they can all stand alone, French's quality and style is demonstrated in all of her works.
In her newest novel,
The Secret Place
, French makes a wink and a nod back to her third novel,
Faithful Place
[
details from me on that novel, here
], although I should say from the start that having read
Faithful Place
is not necessary at all here, it only adds an extra layer of interest.
But something I said in
my review of Faithful Place
holds true also in
The Secret Place
:
That's the thing about French, it is how her books make you feel that is way more important than what happens. Her books are well plotted police procedurals, but the mysteries are not always solved, and if they are, the bad guy does not always get brought to justice. You are not quite sure what to expect. With the number of suspense books I read, this is a huge compliment. It is no wonder that her books end up on every award and best books list each time she writes a new one.
The specifics of the plot here involve a girl's boarding school and their bulletin board where secrets can be posted. The year before, a young man at the neighboring boys' school turned up dead on the grounds of the girls' school. But now, a year later, on the "the secret place" there is a picture of the dead boy and a note saying "I KNOW WHO KILLED HIM." Who posted it? Who killed the boy? Was it one of the girls?
So the story unfolds intricately from this moment. We have the investigation in the present, told from the perspectives of 8 girls (2 groups of 4 besties, and each group hates the other) and the detective, plus a plot thread that goes from the beginning of the end for the dead boy to his final evening. That last plot thread is especially creepy because as those scenes begin, we, the readers, get a countdown to exactly how many days and even hours he has left to live. It gives you the willies each time [in a very cool way].
This is a complex and dark story, not for the feint of heart, but also very compelling. I only had a mini quibble with a small, possibly supernatural subplot that is never fully developed nor did it seem wholly necessary when it was all said and done.
A Note on the Audio
: I have actually only ever
listened to French's books
and have always enjoyed the narration. Since they are set in Ireland, I greatly enjoy the brogue of the narrators, something I cannot provide to the story when reading it in print. It adds to the atmosphere and since these are brooding, dark, atmospheric novels, the audio enhances that.
Specifically here the novel is narrated
by a man for the present story line and a female for the past. The woman's voice in particular is breathy and creepy to go with her ominous storytelling charge.
Three Words That Describe This Book:
unsettling, richly drawn character, intensely suspenseful
Readalikes:
I have made many suggestions for readalikes in the past here, but here is one more new one--
S.J. [Sharon] Bolton's Lacey Flint
novels. As Shauna Griffin says in NoveList, "
These psychologically intricate, suspenseful crime series offer intelligent, richly drawn characters whose investigations become intensely personal.

"

I have had great luck moving readers of one series to the other.